02/03/2023
Posted by:

Rosie Duffield MP

Category:

News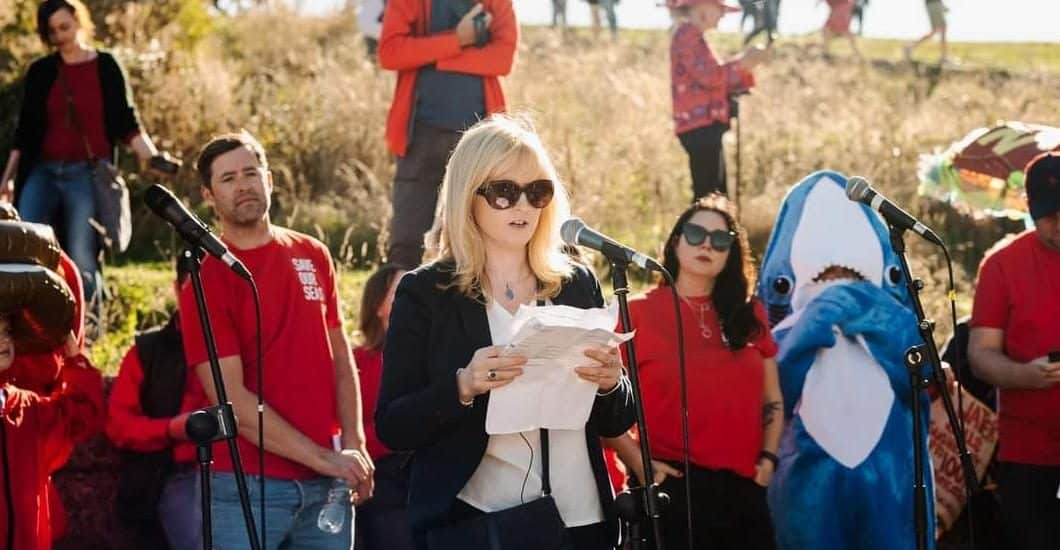 Earlier this week, staff from my office along with local Labour councillors met with residents and Southern Water last night for the Swalecliffe Pathfinder meeting. They were joined by KCC Councillor Neil Baker and representatives from SOS Whitstable. Claire Turnbull, the local Green councillor, also attended for the first time after she was elected almost fifteen months ago.The meeting focussed on projects which are in the process of being deployed. Southern Water were able to confirm that:
The water quality monitoring buoy deployed last November has finally been calibrated and data from it is now being independently assessed. Southern Water are aiming for data from the buoy to be available on the council's website from April. Southern Water and the council are also finalizing discussing what protocols will trigger if high readings of e-coli are identified. These protocols will be publicly available on the website.
The citizen science project through which staff at Canterbury City Council and SOS Whitstable collect water quality data has begun. Training has been well received and it is likely that high readings from the buoy will also trigger them to do additional testing on shore. This information will be plotted on the same graphs available on the council website – however the the citizen science kit takes twelve hours to report.
They have identified 21 missed connections where foul water is draining into the surface water system and the Gorrell Stream. Almost three quarters of these are in and around the Diamond Road pumping station, fifteen are in the process of being fixed.
Kent County Council have agreed to a green wall on the side of the Library and planters to take water from its flat roof. This is one of several interventions designed to slow the flow, holding rain water in the catchment for longer so that they don't overflow the drainage system and discharge into the sea. Raingardens will be added to the square outside of the library and directly fed from surface water off Oxford Street.
Canterbury City Council have agreed to plans for additional trees and perimeter swales around Cornwallis Circle. Residents will be involved in a consultation by the end of March
Planters and Water Butts are being shipped for Tankerton. They hope to deploy up to 538 free water butts and 30 free planters in the roads between Marine Parade and Castle Road. They calculate that they can collect water from almost 1 hectare's worth of roofing and with a 70% take up rate reduce CSO discharges at Tankerton beach by almost 75%. Residents will be being contacted in the second week of March.
Reconfiguration work at Swalecliffe Treatment work has started and will continue for the next eight months. At present waste water flows into the site and through a weir designed to take between 208l and 760l of water per second –  when the flow rate goes above this upper threshold they fill storm tanks and then (if they storm tanks are full) flow into the sea. Under the new configuration, the water will flow into the storm tanks first and then through the weir, allowing them to actively manage flow through the system in such a way that it is able to cope for longer. They are also replacing the screens which remove large debris flowing through site and will improve efficiency. They calculate that these upgrades will reduce use of the long sea outfall (the pipe which they use to pump out contaminated water when capacity is hut) by between 12% and 20%.
Archaeological work has begun the new short sea outfall. Southern Water aim to replace the new short sea outfall by the end of 2024 and long sea outfall by 2025 so that waste water flows further out and beyond the tideline. They have received Environmental Agency approval for the work and will do prelimary work this summer before floating the new pipe in next summer. Residents should know that they will need to apply for planning permission to remove a number of trees near the Skate Park. Removing the trees will allow them to move heavy machinery through the pumping station up to the shoreline rather than they having to close the promenade and skate park. The trees will be replaced by mature trees more in common with the local habitat.
Environmental consultants Five Rivers have been contracted to carry out £50k of improvement works to Swalecliffe Brook which were discussed at the CT5 People's Forum late last year. They are currently securing the relevant permits and aim to start by late spring.
Complaints about smells are down around the pumping station but anyone concerned can email [email protected]. Engineering work on site should not substantively affect local residents.
Many residents are concerned about the efficacy of the current drainage system in light of plans for future housebuilding and so this was a major focus on our questions to managers. Under sustained pressure they Southern Water confirmed that:
The plans above are not a silver bullet. They will substantially reduce the use of CSO's but not stop it – the new plans will however make the most marked difference in our swimming areas.
The widely circulated figure that 95% of the water flowing into the sea from CSO's is modelled and not measured. Southern Water know the concentration of faecal matter normally running through the system and know the total amount of additional water going into the system when it rains. Moving forward, the real time monitoring buoy will give us a better indication of the effect of discharges on the levels of E-Coli within the water but Southern Water acknowledge that they need a better new monitoring framework which is able to more accurately identify the source of e-coli readings and what proportion of those come from CSO's. This information is key to supporting our fisherman as high levels of e-coli in and around the harbour have been linked to the contamination of our oyster beds. However CSO's are only one of the potential sources of e-coli here with contamination of the Gorrell Stream, human activity and fishing boats also being potential contaminators. Modelling of how to accurately record and distinguish sources of contamination has begun in Chichester Harbour through a PhD research project at the University of Brighton.
Southern Water haven't made a formal submission to the council on the extent to which they think they can deal with the additional demand caused by housebuilding, however they do have modelling in their Drainage Management Plan which tells them the capacity of the system for the next twenty years. They support Labour's plan to make sewage companies statutory consultees on all housing schemes and the use of Grampian conditions which can make any housing development dependent on their opinion as to whether the system has the necessary capacity. A new Labour council would introduce these safeguards into the Local Plan and ensure their Drainage Management Plan was used to assess all the sites being brought forward.
If you have any questions on the sewage situation in Whitstable please email my office at [email protected] or Cllr Chris Cornell at  [email protected]
As your MP for Canterbury, I can help constituents on various issues, such as education, the environment, health and social services, highways, transport, and housing.
Please use the contact form to get in touch with me. Please remember to provide as many details as possible, including your name, address and full details of your issue.
I also hold face-to-face and online surgeries using Zoom/Microsoft Teams. At each session, I'll be available to help with local issues. Click here to book an appointment.